New firmware version
MPeV6
Hard work, lots of time and effort devoted to development, testing and we can say – we have it 😊! The year 2020 will be a unique year for our company Bikel.pl. We will release a new version of the firmware for the MPe computer – MPeV6 version. The firmware has undergone very big changes, behind which there is a whole range of further possibilities for use in an electric vehicle.
When MPeV6 firmware
will be available?
So far, we have already conducted a lot of tests using MPeV6 firmware. We have a few more ahead of us, also on more powerful machines. In addition, it remains to prepare, instructions, connection diagrams, describe configurations, make instructional videos.
We estimate that the firmware will be available for download in mid-May 2020.
Information
for MPeV5 computer users
Be calm, we also thought about you. You will be able to upload the latest version of MPeV6 firmware for your computers.
LIVE ONLINE WITH BIKEL.PL
CONCERNING MPeV6
This is another novelty in our business 😉. In fact, we wanted us to meet you live at the May ebike event in Żyrardów. Due to the difficult situation and the prevailing "quarantine" it is very doubtful that the event will take place. Therefore, we will meet virtually. We will want to answer your questions. You are certainly curious about how MPeV6 works.
HARDWARE CHANGES in MPeV6
Program changes are not everything. There will also be noticeable hardware changes. Production of MPeV6 computers will be suitable for serial and machine production, so we will not have to do everything manually. It will also be easier to connect MPe to the e-bicycle installation.
See for yourself the first changes in the motherboard housing and the PCB design.
NEW, LARGE, COLOR DISPLAY
Many of you have been waiting for this moment – even we were😀! Today we can officially announce: in the second half of June 2020 we will release a new, large, colorful display for MPe. Until now, we offer a small display that will be in our store all the time: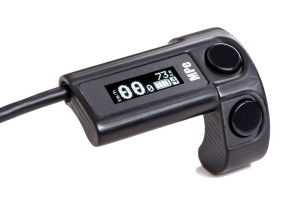 Importantly, both displays will work for the MPeV6 version.
Oh happening, happening at Bikel.pl. We are looking forward to this year 2020 and these new products.
Thank you for supporting the project, which, as you can see, has developed a lot. We hope that there will be more lucky owners of MPe computers, not only with us in Poland, but all over the world. Thumbs up for our further development will definitely be of further use.
You can see the whole episode about the latest news in Bikel.pl for 2020 on our youtube channel (polish language):